<tc>Rose&peony brightening body scrub</tc>
Regular price
Sale price
$24.13
Unit price
Every
Sale
Sold out
Rose&peony brightening body scrub (150ml)
" Lab-tested formula made up of natural plant extract for gentle whitening "
Lead to a buildup of dead skin cells on the surface of your skin, makes the skin rough to the touch and has a dull, cracked texture and appearance. By removing the dead, dry cells, you should have smoother and more even skin.Brightening actives and exfoliating particles help brighten, moisturize, soften and smooth skin. Scrub particles made from ash are 100% biodegradable and environmentally friendly.
The saffron powder in the ingredients is made of saffron fibers, with fine particles and not easy to irritate the skin. In addition to making the skin clearer, this deodorant cream also has a variety of botanical extracts and essences to promote skin vitality.
Formulated with 4 Key whitening ingredients:
Whitening compound Clair BLANCHE-II
Arbutin (Arbutin)
Whitening agent:Glutathione GSH
VitaminB3 + B5 Moisturizing Essence
3 types of natural plant extrac:
Peony root extract , Scutellaria baicalensis root extract, Strawberry saxifrage extract
VISIBLE RESULTS THAT INCREASE OVER TIME AFTER 2 WEEKS:
+Brighten up dull skin tone
+ Improve radiance and glow
+Tackle hyperpigmentation, dullness, and signs of skin aging
Scent: Elegant Rose and Peony
/ Mild Whitening Formula (No Harmful Substances)/ Suitable for All Skins/ Contains natural ingredients and passes safety tests
*For sensitive skin, you may want to just use a body scrub once a week.
Share
Ingredients

AQUA, GLYCERIN, CETYL ALCOHOL, CELLULOSE ACETATE, HYDRATED SILICA, CETEARYL ALCOHOL, PARFUM, GLYCERYL STEARATE, COCAMIDOPROPYL BETAINE, BENZYL ALCOHOL, PEG-100 STEARATE, PEG-40 HYDROGENATED CASTOR OIL, ACRYLATES/C10-30 AIKYL ACRYLATE CROSSPOLYMER, CAPRYLIC/CAPRIC TRIGLYCERIDE, CI 14700, PAEONIA SUFFRUTICOSA ROOT EXTRACT, TOCOPHEROL. [Not tested on animals]
How to use

⼀般建議每週使⽤⼀⾄兩次即可,乾性肌膚的⼈應該要根據⽪膚狀況,延長到兩周⼀次,或⼀個⽉⼀次等。 在做完去⾓質之後,更重要的是要觀察⽪膚狀況,並搽上FILTERS 極致亮⽩植物萃取⾝體乳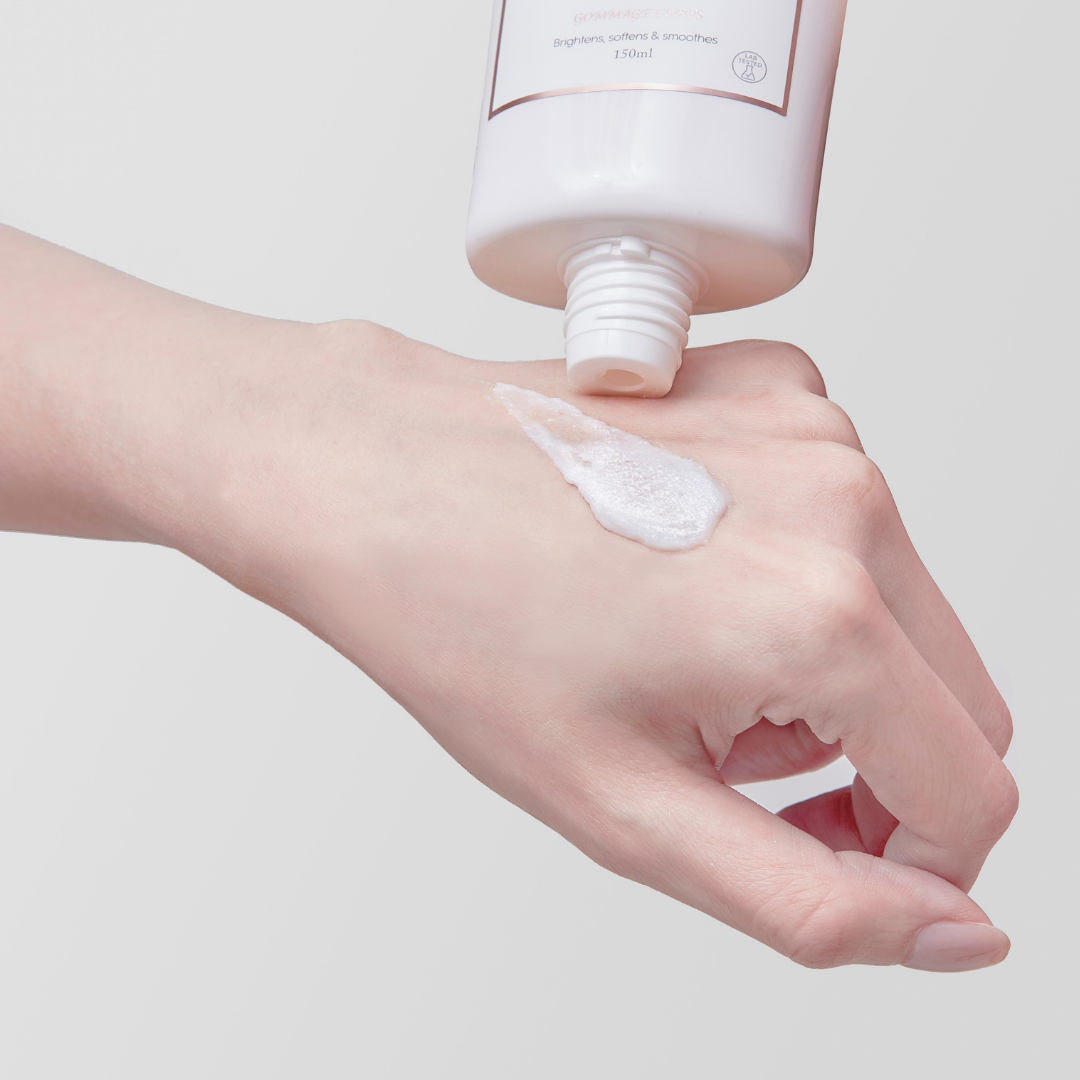 環保料,皮膚滑,光澤左
之前用開sabon磨砂覺得都唔錯,有日行the one見到呢個品牌就手多多試下呢款磨砂!
首先個香味已經好岩我心水,係玫瑰再溝牡丹,而且係用⽵⼦纖維磨製而成,所以就買左返去用。
由於太中意隻味,我一星期用3-4次,磨完真係好滑,仲持久過用sabon,而且feel到真係唔乾,皮膚質素仲好左!
大推!
大愛😍
呢枝磨砂真係好好用,我用左兩星期發現皮膚真係白滑左,仲要係用完一D都唔乾!真係明顯見到暗沉位置光澤左💙
仲有幾鐘意佢磨砂粒粒唔係卒幾下會溶個隻,係環保物料👍🏼👍🏼 大愛😍